THE HOUSE OF JOY
More than half of Burundi's population suffers from chronic malnutrition. Most of them are children. The torments of hunger go beyond imagination because in the eyes of malnourished children you can read the encyclopedia of death. Our goal is to bring back the smile and joy on their faces.
The House Of Joy project started in early 2013 in collaboration with Jean Marie Kubwimana, one of the locals in Buraniro, where I worked as a doctor for 11 months. The plan is to build a house for Jean Marie and her family who will "adopt" malnourished children. The recovery period is between 1 and 3 years. The return of a child to his or her family will be replaced by another child. So far, Jules, Flery, Jeannette, Steve and Aline have found their smile and joy in the house rented in July 2013.
In November 2013 I bought the land and fenced it.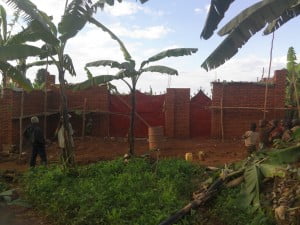 In February 2014, I started the foundation of the house.
The house will be able to house and feed up to 25 children.
But the disease is not just a physical one, there are many dimensions of this state in which they are. Their souls and minds are destroyed. They are often part of broken families, unloved, left behind, lying in a world of their own and collapsing into inertia and non-existence. We do not want to offer a bed in a center of malnutrition, cold and impersonal, but a place in a family that loves, learns, saves.
I invite you to be close to us through your moral and financial support!